○Association
Kumamoto Montana Natural Science Museum Association
○Member
Museum of the Rockies, Montana State University
Carter County Museum
Mifune Dinosaur Museum
Goshoura Cretaceous Museum
Aso Volcano Museum
Kumamoto City Museum
Kumamoto Prefecture Museum Network Center
○Montana, Kumamoto Sister Relationship

KUMAMOTO MONTANA NATURAL SCIENCE MUSEUM ASSOCIATION
The Kumamoto Montana Natural Science Museum Association (KMNSMA) was founded October 2015. There are currently more than 30 professional individual members representing seven institutions from Kumamoto and Montana. Participating institutions in Kumamoto are the Mifune Dinosaur Museum, Goshoura Cretaceous Museum, Aso Volcano Museum, Kumamoto City Museum, and the Kumamoto Museum Network. Participating institutions in Montana are the Museum of the Rockies at Montana State University and the Carter County Museum.
The purpose of the KMNSMA is to establish and strengthen the natural science museum relationships between Kumamoto, Japan and Montana, USA, and to inspire life-long learning within Kumamoto and Montana communities. Typical KMNSMA activities strive to create an innovative network of natural science museums in Kumamoto, Japan and Montana, USA that will inspire professional dialogue for the advancement of museum activities and community engagement; advocate natural science research and education for the greater public benefit; promote science museum relationships and events in Kumamoto and Montana; provide technical assistance and training to all association members as needed; develop bilingual educational resources that can be disseminated to Japanese and American audiences; communicate useful information about the natural sciences through public lectures, workshops, and museum events.

MISSION STATEMENT
KMNSMA inspires and connects people and institutions within the natural science museum field, engages in creative collaboration for the advancement of teaching and learning, and provides professional knowledge and training that will empower Kumamoto Montana museums to sustain themselves as vibrant and essential institutions within their communities.
MUSEUM OF THE ROCKIES, MONTANA STATE UNIVERSITY
The Museum of the Rockies (MOR) at Montana State University was established in 1957 in Bozeman, Montana. As a Smithsonian Affiliate institution, the MOR is world renowned for its dinosaur research and collections program, engaging exhibits in paleontology and history, the Taylor Planetarium, the outdoor Living History Farm, and innovative educational programing. Temporary exhibits change frequently throughout each year drawing more than 160,000 visitors annually.
Museum of the Rockies is both a college-level division of Montana State University and an independent nonprofit institution. Accredited by the American Alliance of Museums, MOR is one of just 775 museums to hold this distinction from the more than 17,500 museums in the United States. In 2012, the MOR and the Mifune Dinosaur Museum in Mifune Town, Kumamoto, Japan became sister museums. As an institution that is dedicated to its global partnerships, the Museum of the Rockies brings the world to Montana, and shares Montana with the world.
| | |
| --- | --- |
| | |
Located in Ekalaka, Montana, the Carter County Museum (CCM) was the first county museum in the state and the first to display fossils. It was founded in 1936 by the Carter County Geological Society, a group of amateur archaeologists and paleontologists who wanted to preserve and share the world-class dinosaur fossils found in southeastern Montana. Exhibits cover a comprehensive 90 million year history of the region, from fossil dinosaurs from the Western Interior Seaway through the extinction event in the K-Pg boundary of the Hell Creek Formation, Ice Age hunting techniques of paleoindian tribes, and homesteading in the West. Exhibits include fully mounted skeletons of Anatotitan copei and T. rex, a complete skull of Triceratops, mounts and casts a of pachycephalosaur, mosasaur, and pterosaur as well as displays on the enduring cultures of American Indian nations in the area, natural history, ranching, rodeo, and the story of life on the Plains.
The CCM is a repository for federal and state fossils, a sister museum to the Museum of the Rockies, and a member of the Kumamoto Montana Natural Science Museum Association and the Montana Dinosaur Trail.
| | |
| --- | --- |
| | |
Mifune Dinosaur Museum (MDM) is a small natural history museum located in the center of Mifune Town in Kumamoto Prefecture, Japan. The first carnivorous dinosaur fossil discovered in Japan was found near here. A municipal museum, the MDM was established in 1998. It has developed a significant paleontological research and collections program, and engaging educational activities to promote lifelong learning.
The MDM conducts numerous field excavations at fossil localities within geologic sediments from the early Late Cretaceous Mifune Group, and has been collecting remains of ancient animals, particularly focusing on dinosaurs and other vertebrate fossils. The MDM houses unique fossils that cannot be found in other museums, and a large collection of Mesozoic bivalves from Japan that were collected by Dr. Minoru Tamura (Professor Emeritus of Kumamoto University). The most important role of the MDM is to collect remains of extinct life, preserve them for future generations, and inspire the public to learn about science and nature. In 2014, the MDM constructed a new building and is now serving 150,000 visitors and school groups annually. In 2012, the MDM and the Museum of the Rockies established a sister museum relationship. Since then, there have been many shared scientific and educational projects. The Preparation Project demonstrates the technical aspects of research in the MDM's new viewing lab, which is credited for repeat visitation.
| | |
| --- | --- |
| | |
The Goshoura Cretaceous Museum (GCM) was founded after the discovery of dinosaur fossils on Goshoura Island in 1997. Goshoura Island is one of the 120 Amakusa islands, a series of islands located in the Amakusa Geopark in southwestern Kumamoto Prefecture. This island is known as "Dinosaur Island" or "Fossil Island." There is an abundance of various vertebrate and invertebrate fossils found in stratigraphic sediments deposited during the Cretaceous and Paleogene Periods, 100–49 million years ago. These ancient fossils offer visitors a glimpse into Earth's prehistory.
The GCM is a scientific museum and a central research and collections facility with approximately 30,000 scientific specimens that have been collected both locally and abroad. The 1,000 exhibits include a rare carnivorous dinosaur tooth, dinosaur footprint, and the oldest large mammals in Japan.
The GCM offers fossil discovery experiences and sightseeing adventures near the museum. Visitors can also visit the 1997 dinosaur footprint discovery site on Bentenjima Island, and "The Cretaceous Wall," a 200-meter high cliff where the largest carnivorous dinosaur tooth in Japan and other dinosaur fossils were discovered.
| | |
| --- | --- |
| | |
Founded in 1983, Aso Volcano Museum is located at Kusasenri-ga-Hama, the top of the Aso central cones. The museum's exhibits focus on Aso Volcano and the unique geography, topography, animals and plants within the Mount Aso area. Museum exhibitions change
regularly. Entry fees and donations from the local public utility foundation provide funding for its operation. The Aso Geopark Promotion Council's office is situated in the museum and functions as the Geopark's administrative center. Led by full-time volcanologists, curators and skilled geological interpreters, the staff conducts museum and field tours for tourists and students. These engaging professionals also provide educational support to many schools around the park. Because Aso is in close proximity to Korea and Hong Kong, the museum is an important educational facility and destination for the entire Asian region. Many of these visitors do not live near active volcanoes. In 2015, paid visitation increased to more than 200,000 which included 160,000 visitors from abroad. The 2016 Kumamoto Earthquake caused severe damage to the museum and it was closed for several months while the building and exhibits were being repaired.
| | |
| --- | --- |
| | |
The Kumamoto City Museum (KCM) is a general museum founded in 1952. There have been numerous transitions in the facility over the years. The current main building was opened in 1978. The KCM features a planetarium and collections that contain approximately 130,000 artifacts and scientific specimens representing the fields of geology, paleontology, biology, archaeology, history, and ethnology. There are many artifacts and scientific specimens on exhibit that depict the natural sciences and humanities within the Kumamoto area including elaborate and engaging dioramas.
The KCM planetarium has a 16-meter diameter dome where visitors can view the stars and constellations of our universe. An informative lecture by planetarium staff demonstrates how a starlit sky will appear on the day of their visit, which is a very popular program at the KCM. Images are projected with subtitles during special program performances.
The KCM mission is to encourage members of our community and the Kumamoto region to participate in our museum programs. We inspire active lifelong learning through independent thinking and educational activities that are beneficial to all age groups.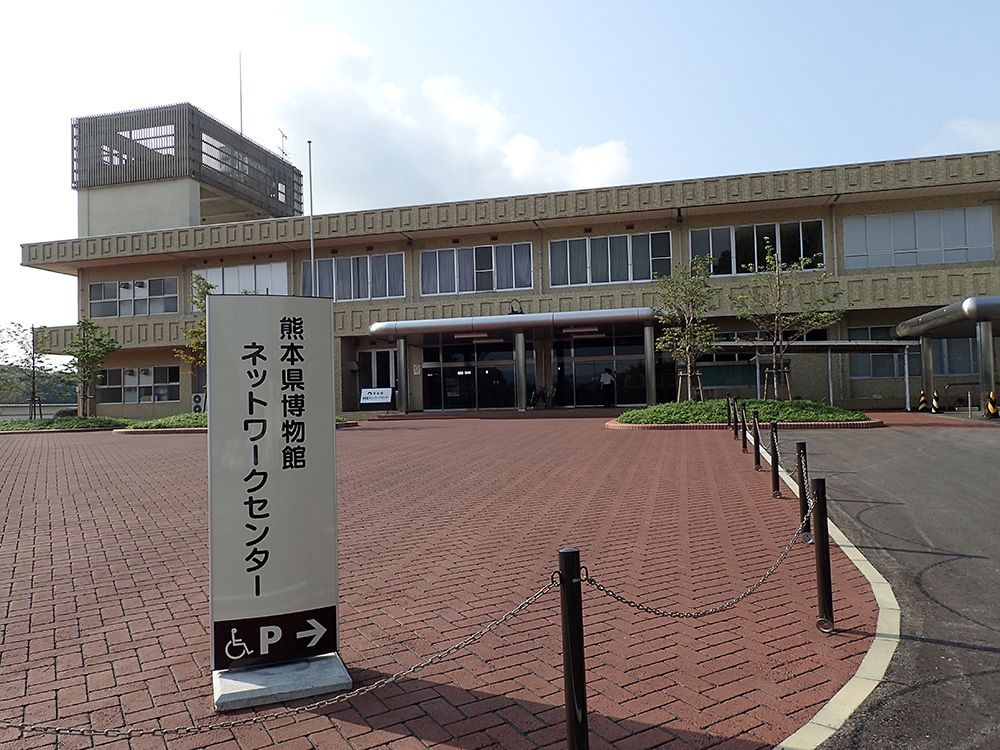 Kumamoto Prefecture Museum Network Center
The Kumamoto prefecture museum network center was newly established in April, 2015, with the objective of collaborating with museums in Kumamoto prefecture, and to revitalize museum activities throughout the prefecture.
We have about 640,000 items representing the fields of folklore, history, zoology, botany and geology. In addition to organizing exhibitions utilizing these materials, holding lectures on nature and culture of Kumamoto and nature observation sessions, we are also working on a database of museum materials and workshops for museum staff in the prefecture.
In addition, we are also working on educational programs such as mobile experience classes for schools, lecturer dispatch, development of exhibition packages that can easily exhibit animals, plants and geology, and experiential workshops for teachers.

MONTANA KUMAMOTO SISTER-STATE RELATIONSHIP
In 1979, Mike Mansfield, U.S. Ambassador to Japan, recommended that the Governors of Kumamoto and Montana establish a sister-state relationship. After three years of discussion, Kumamoto Governor Issei Sawada and Montana Governor Ted Schwinden signed a sister relationship agreement at a ceremony in Helena, Montana's State Capitol on July 22, 1982. Since then many cultural exchanges and friendships have been established between Kumamoto and Montana governments, universities, museums, businesses, cultural institutions, and communities.